Agawam Junior High School is excited to celebrate National Breakfast Week, March 7-11, 2022! Join us for breakfast with our "Celebrity" Servers!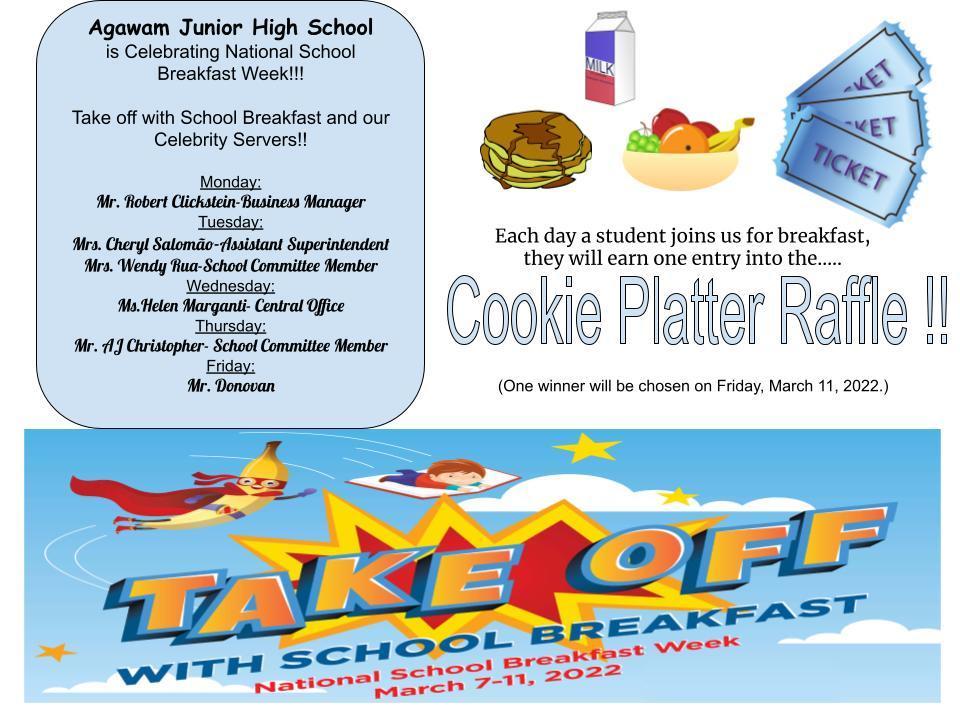 Just a reminder - today's schedule (Friday 12/18) is week 1, periods E, F, G and H.
Good Morning AJHS Families, As you are aware, there are issues with google world wide. It is slowly allowing staff to log in. Please continue to have your student log into their google classrooms every 30 minutes (starting at 8:00 AM) to see if it is back online. We will also send out updates as soon as we hear anything as well. Thank you!!!

Please Note: All Agawam Public Schools are pivoting to remote learning for 2 weeks starting Friday, October 30th. Parents and students please check your emails for updates and class meet times.

The schedules that are printed for each student resemble the schedules from recent years. This year we need to look at them differently. If you have picked up a device and received a schedule this should help you "read" it based on our schools hybrid model. If your student is in cohort A this will be gone over in homeroom when they receive their schedule in person. Please to
https://www.agawamed.org/o/ajh
for detailed information!

We can't wait to see you! Check out our sneak peak video of what's happening at the Junior High! Go to
https://www.agawamed.org/o/ajh
to view the video! See you soon!

We are excited to announce our new website. Please take a look around!
This Doering Middle School student hand-made and painted this chessboard during remote learning. Such diligent efforts in the carving of the chess pieces, very impressive!
Vision: The Agawam School Community is committed to developing compassionate, contributing citizens through an inclusive learning environment with high expectations. Mission: The Agawam Public School District, in partnership with the community will provide a safe, personalized, and engaging learning experience where every student is supported and challenged.