Remote Meals Pick Up Wednesday, April 14, 2021 3pm-4pm Agawam Junior High School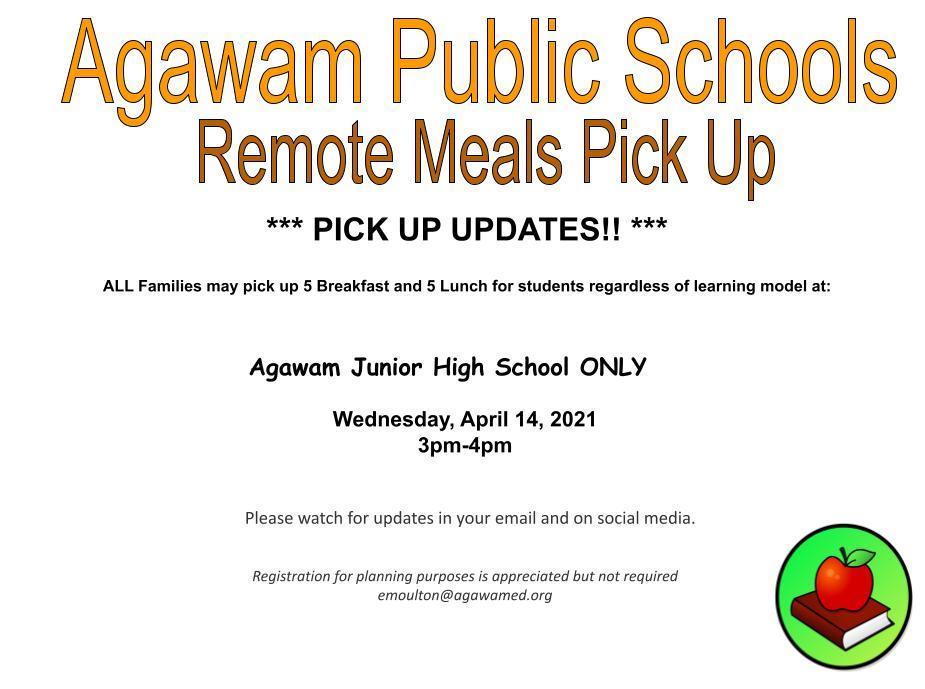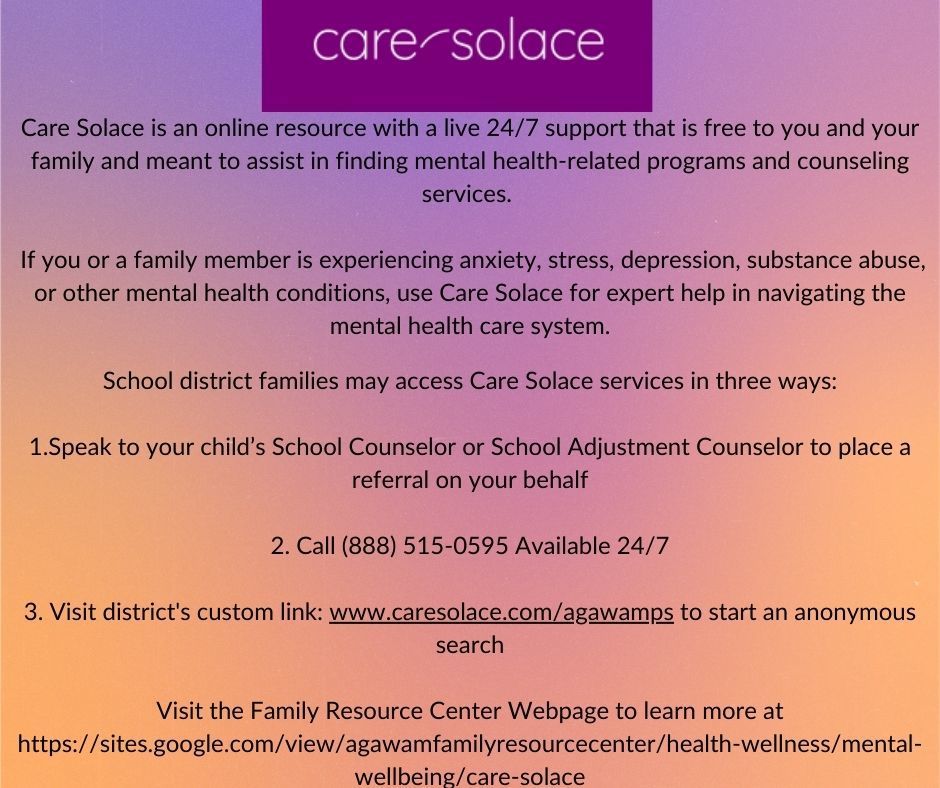 News from the Agawam Family Resource Center: We are excited to tell you about a new resource we have found! Boston Covid Tutoring Service is offering free virtual tutoring! We contacted them and confirmed that any parent can sign their child up for this support. If you want more information please go to
https://bostoncovidtutoring.us
Remote Meals Pick Up Wednesday, April 7, 2021 Agawam Junior High Only 3pm-4pm

Parent Advisory Council News Hello, Agawam Families! Please join us for the VIRTUAL Agawam Special Education Parent Advisory Council Meeting on Thursday, April 15th , 7pm - 8pm. As we welcome students back to school full time, this is an opportunity for parents of special education students to ask questions. Tony Fazio, Special Education Director, will be present and available to answer questions. If you have any questions, please email Wendy Rua directly at
wrua@agawamed.org
Remote Meals Pick Up Wednesday, March 31st 7:30am-8:30am OR 1pm-2pm Doering Middle School OR Agawam Junior High School This will be last week of meal pick up at the Middle School.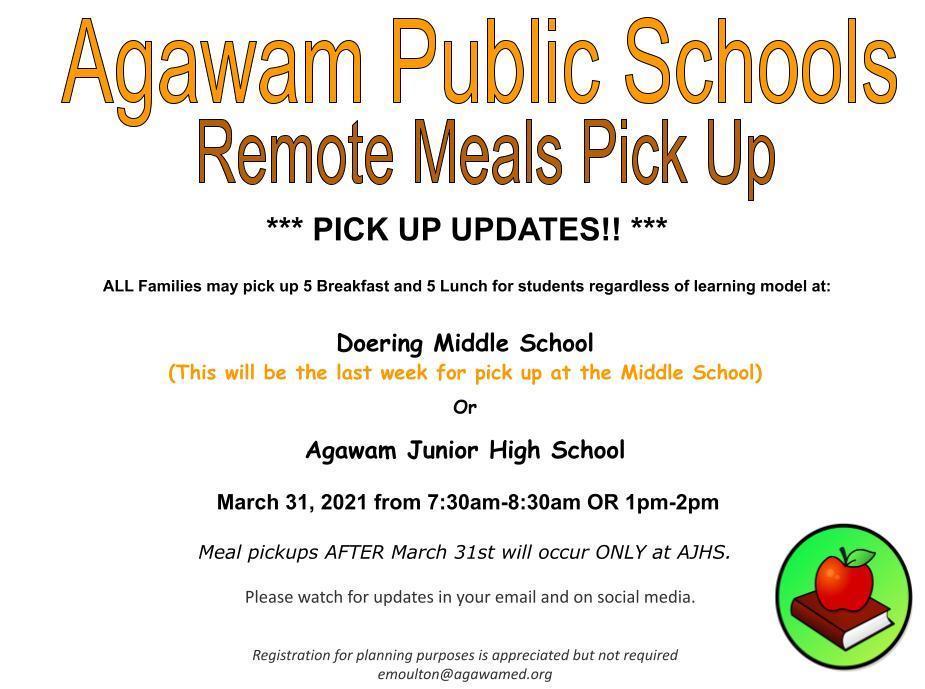 Remote Meals Pick Up Wednesday, March 24th JUNIOR HIGH ONLY 7:30-8:30am OR 1pm-2pm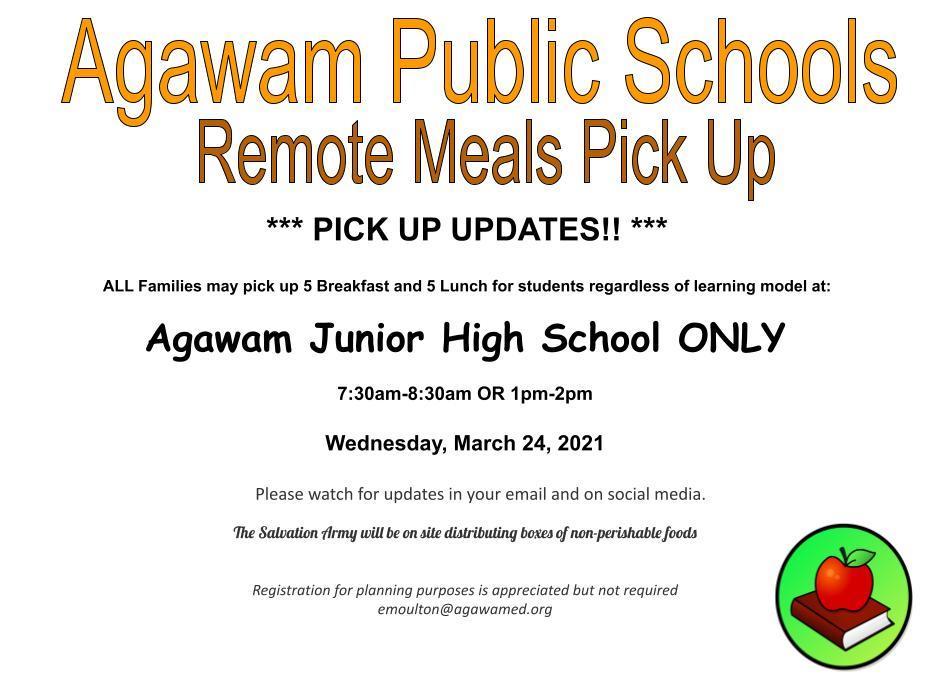 Remote Meals Pick Up March 17, 2021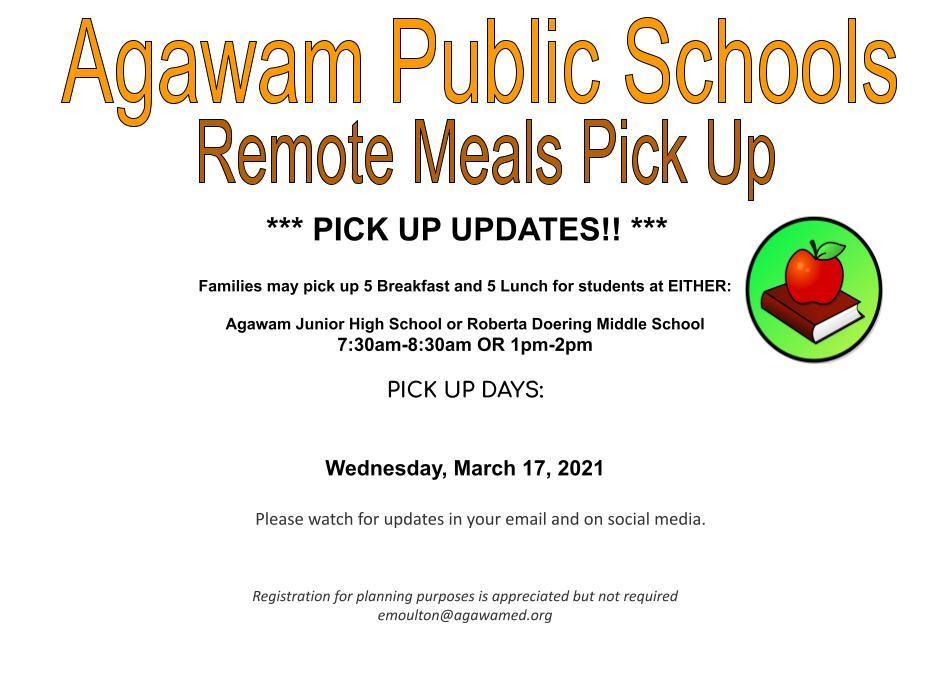 Parenting in a Pandemic Group …...because parenting fatigue is real! Parenting during a pandemic has been anything but easy. Are you a parent, grandparent, or caregiver of a student who attends Agawam Public Schools? Come join the Parenting in a Pandemic Drop-in Group. Get connected, destress, and learn from each other. Tonight's group will focus on self-care! This is a free bi-monthly drop-in group that is facilitated by BHN. Join in from 6p-7p through the link below:
https://BHNINC.zoom.us/j/99061343950?pwd=UVpLZWJ3c1Fjc1Z4YlV2SDMxQktmZz09
Or dial in:1- 929 205 6099 US Meeting ID: 990 6134 3950 Passcode: 860959 You deserve this!
Remote Meals Pick Up Tomorrow, Wednesday, March 10
Agawam Public Schools' English Learner Parent Advisory Council is actively seeking parents/guardians interested in volunteering to serve as the council's Chairperson, Co-Chairperson, and Secretary. Please email Ashley Martins at
amartins@agawamed.org
if you are interested in volunteering for any of these positions, would like to request a copy of the ELPAC BY-LAWS, or have additional questions. If there are multiple interested parents/guardians for each position, a vote will be held at the next ELPAC meeting.
Join us tonight at 7 pm to hear from the Hamden DA's Office, who will be offering Agawam Public School District an online webinar through Zoom. This online webinar will help you learn more about keeping children and students safe while navigating the internet and protecting against online predators. It's not too late to register! Register at:
https://sites.google.com/view/agawamfamilyresourcecenter/webinar-options
Once you register you will be sent an email full of some great quick and helpful tools that you can use right away!

Homeschool Meet-Up 2/25/21 at 4pm-Virtual Meeting We will discuss funding and regulations regarding meeting the needs of students with disabilities, along with consultation that covers the Special Education evaluation process. We want to locate and identify the students living in Agawam who are homeschooled and Parents or Representatives who need information and tools to help children they are educating. Google Meet Code: meet.google.com/dgr-wbnn-fib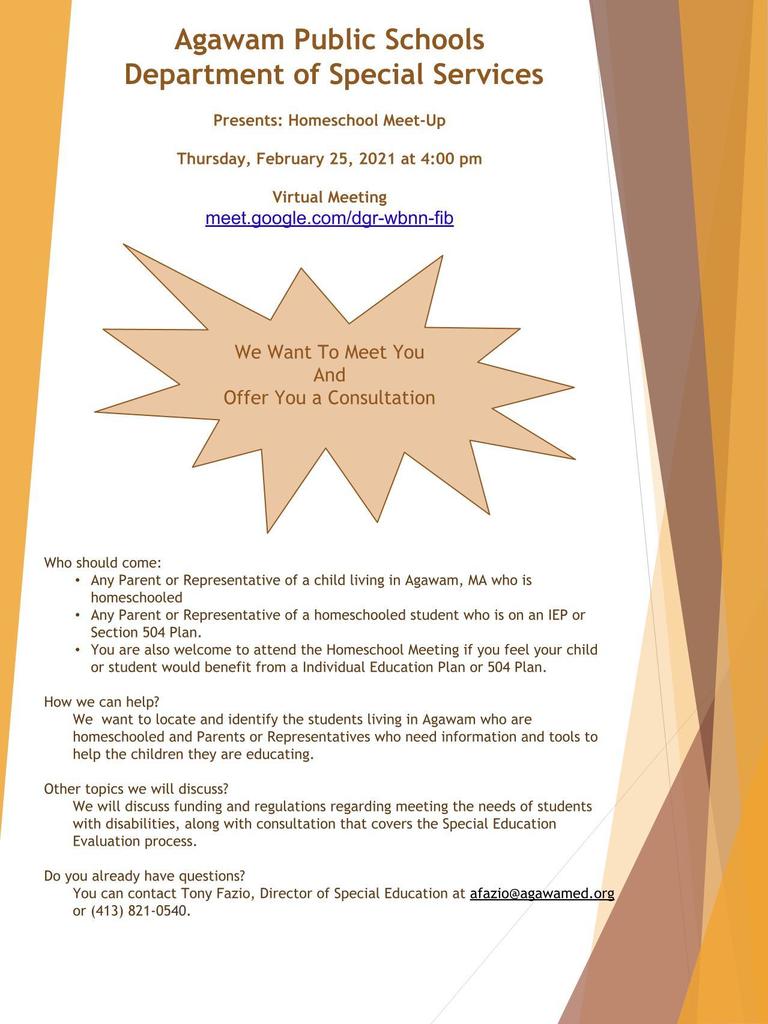 Remote Meals Pick Up Wednesday, February 24 7:30am-8:30am OR 1pm-2pm Junior High or Middle School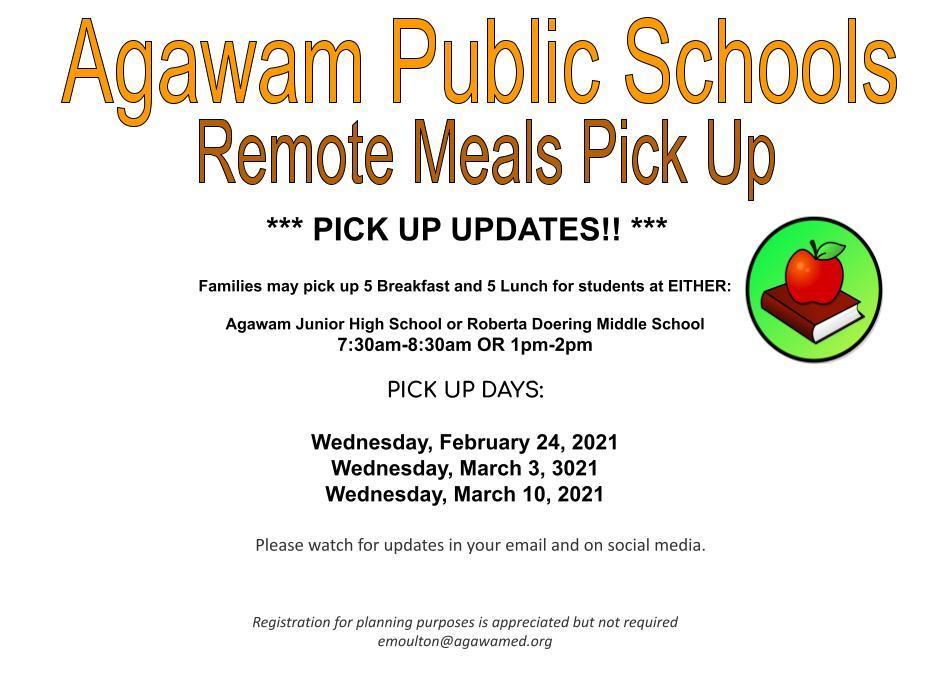 Remote Meals-February Vacation Wednesday, February 17 9am-10:30am Junior High School Only
Free parent, caregiver and guardian support!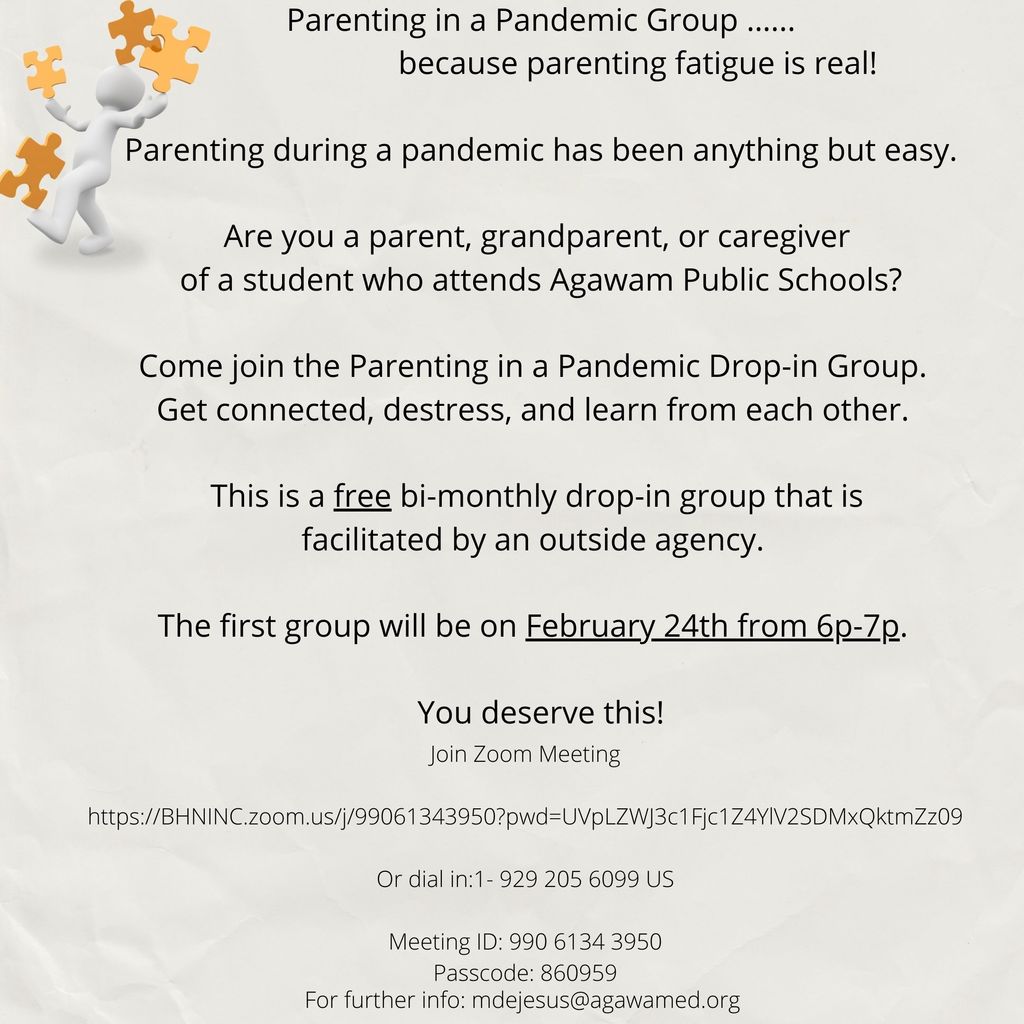 Due to the inclement weather in the forecast, Tuesday, February 9, 2021 will be a remote learning day for Agawam students and the teaching staff. School offices are open.