Agawam Public Schools está comprometido con la salud, la seguridad y el bienestar de nuestros estudiantes, personal y familias. Estamos orgullosos de continuar nuestra asociación con Care Solace para apoyar nuestro compromiso continuo.. Si usted o un miembro de su familia está buscando ayuda con la salud mental o el uso de sustancias, Care Solace lo conectará rápidamente con proveedores comunitarios que se adapten a sus necesidades. Llame al 888-515-0595 en cualquier momento o busque por su cuenta en
www.caresolace.com/agawamps
.
Agawam Public Schools is committed to the health, safety, and well-being of our students, staff, and families. We are proud to continue our partnership with CareSolace to support our ongoing commitment. If you or a family member are looking for help with mental health or substance use, Care Solace will quickly connect you to community providers matched to your needs. Call 888-515-0595 at any time or search on your own at
www.caresolace.com/agawamps
.
Agawam Rotary Club will host a Story Walk and Story Time event during the 6th Annual Holiday Used Toy Exchange on Saturday, December 11, from 11 am to 2 pm at the Agawam Senior Center, 954 Main St. Our story walk will feature a picture book called ' All Are Welcome' by Alexandra Penfold-a book about a school where diversity and inclusion are celebrated. This is a fun educational activity that allows families to read and discuss the pages of the book together. Storytime will feature stories read in English, Spanish, Turkish, and Russian. In addition, each family will receive a selection of new multicultural and bilingual books to enjoy together at home. The event will be held indoors and open to children of all ages!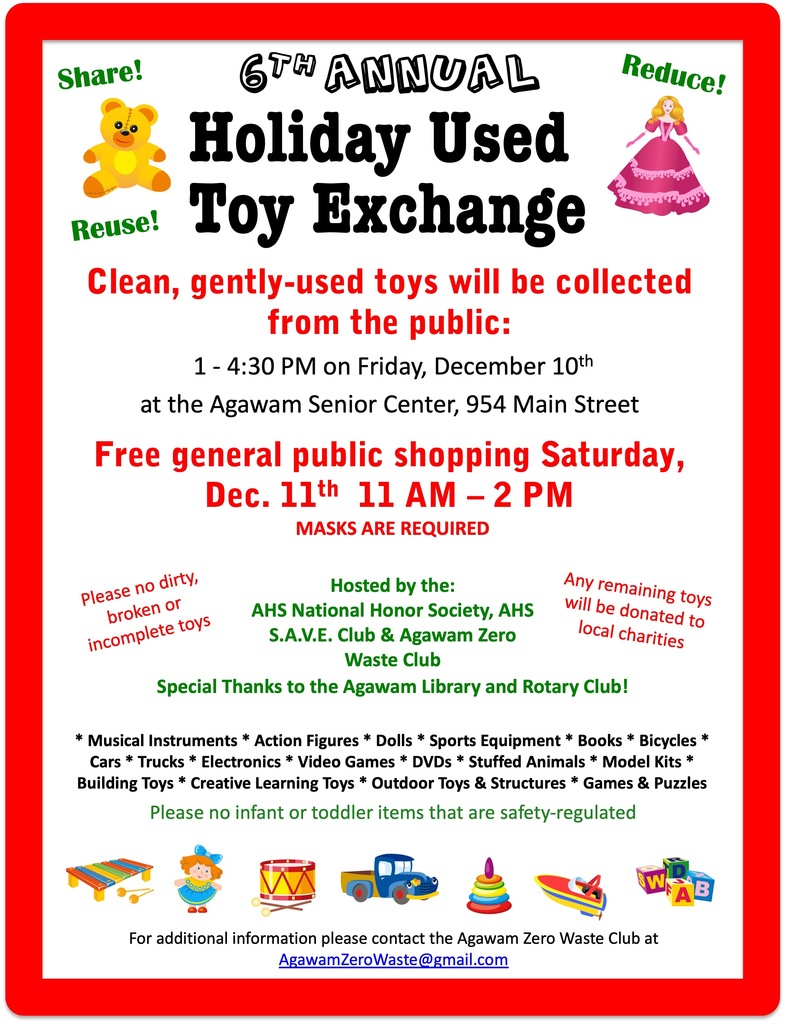 Vaccination Survey Results We received 795 responses with the following results: Yes: 29.8% I would take my child to a school site to get vaccinated. No: 51.3% I would not take my child to a school site to get vaccinated. Maybe: 18.9% I would maybe take my child to a school site to get vaccinated.
Looking for School Nurse Substitutes......
Agawam Food Services has transitioned to it's new platform for online lunch payments and meal applications. Families will no longer have access to the "myschoolspending' accounts. All balances, positive and negative, have moved to the TITAN FAMILY PORTAL. Please use the link below to register your student.
https://family.titank12.com/XRBWSD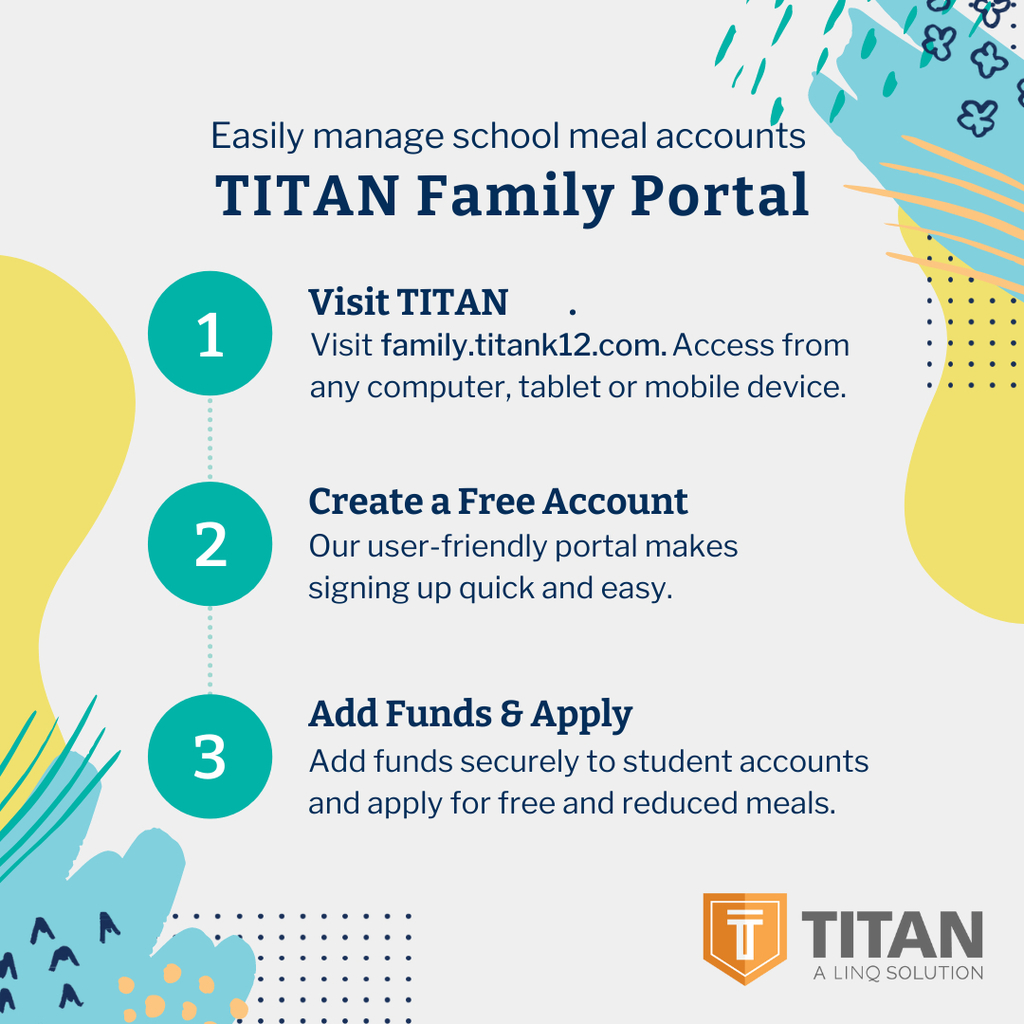 The Agawam Parent Advisory Council will hold a virtual meeting on November 10, 2021 at 6pm. Some agenda items: A new PAC president will be elected; representatives from the Department of Elementary and Secondary Education will be present to discuss the upcoming Tiered Focused Monitoring that occurs every six-years across all Districts in the Commonwealth. Click here for more information on TFM. You can join the meeting via Zoom with the link below:
https://us02web.zoom.us/j/81351632370
Meeting ID: 813 5163 2370​ If you have any interest, please email Wendy Rua at
wrua@agawamed.org
. See here for complete details about the Agawam Parent Advisory Council.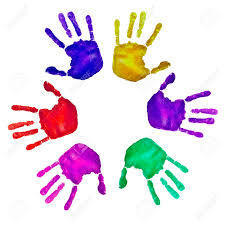 Please join the Agawam Public School, Department of Special Services tonight for our virtual Homeschool Meet-Up. Who should come: Any Parent or Representative of a child living in Agawam, MA who is homeschooled. Any Parent or Representative of a homeschooled student who is on an IEP or Section 504 Plan. You are also welcome to attend the Homeschool Meeting if you feel your child or student would benefit from a Individual Education Plan or 504 Plan. You can join via Google Meet. meet.google.com/ber-nbto-nkw Join by phone ‪(US) +1 443-892-2890‬ PIN: ‪586 797 914‬#
During the week of November 15, 2021 the Department of Elementary and Secondary Education's (DESE's) Office of Language Acquisition will conduct a Tiered Focused Monitoring Review of Agawam Public Schools. The Office of Language Acquisition reviews each district's and charter school's ELE program every six years to monitor compliance with federal and state English learner education laws and regulations. Areas of review will include English learners' student assessments, identification of English learners; what programs English learners are placed in, parent and community involvement, curriculum and instruction, student support services, licensure requirements for faculty, staff and administration, program plans, and evaluation and recordkeeping. In addition to the onsite visit, parent outreach is an important part of the review process. The review chairperson from the Office of Language Acquisition will send a survey to the parents of students whose records the review team examines. The survey focuses on key areas of their child's English learner education program. Survey results will contribute to the monitoring report. Parents and other individuals may call David Valade, Office of Language Acquisition Review Chairperson, at (413) 314-6711 to request a telephone interview. If an individual requires an accommodation, such as translation, to participate in an interview, DESE will make the necessary arrangements. Within approximately 60 business days of the onsite visit, the review chairperson will provide the (district or charter school) with a report with information about areas in which the (district or charter school) meets or exceeds regulatory requirements and areas in which the (district or charter school) requires assistance to correct or improve practices. The report will be available to the public at
https://www.doe.mass.edu/ele/cpr/
. Translated Versions of this message can be found at
https://drive.google.com/drive/folders/1avqAezA8Va1cxNEv0225yi42DeS-H43y?usp=sharing

We are pleased to announce that the Test and Stay Program in Agawam Public Schools will begin on Tuesday, October 12th. BinaxNow antigen testing will be available to eligible individuals Monday-Friday from 6:30 a.m.-8:00 a.m. at Robinson Park School. The Test and Stay Program is for unvaccinated, asymptomatic students and staff who have been identified as a close contact in our schools or school related activities.
https://5il.co/107a6

World Mental Health Day, honored annually on October 10, was created to raise awareness of mental health issues and mobilize support to improve the mental health of people around the world. This year's theme, "Mental Health Care for All: Let's make it a reality" highlights the importance of equitable access to quality mental health care for all individuals, especially with the additional toll that the COVID-19 pandemic is taking on the physical and mental health in our communities. Now more than ever, it is critical that we promote mental health awareness to reduce the stigma around the challenges we are coping with that can often prevent us from seeking help. It takes strength to acknowledge things we are struggling with, talk about mental health, support each other, and get help. Agawam Public Schools is committed to raising awareness about mental health and equitable access to quality mental health services. Agawam Public Schools partnered with Care Solace to support the well-being of students, staff, and their family members. Care Solace is a complimentary and confidential care coordination service that can help you quickly find mental health or substance use treatment options matched to your needs regardless of circumstance. If you would like to use Care Solace to help you find a provider: Call 888-515-0595 available 24/7/365 in any language Visit
www.caresolace.com/agawamps
and either search on your own OR click "Book Appointment" for assistance by video chat, email, or phone.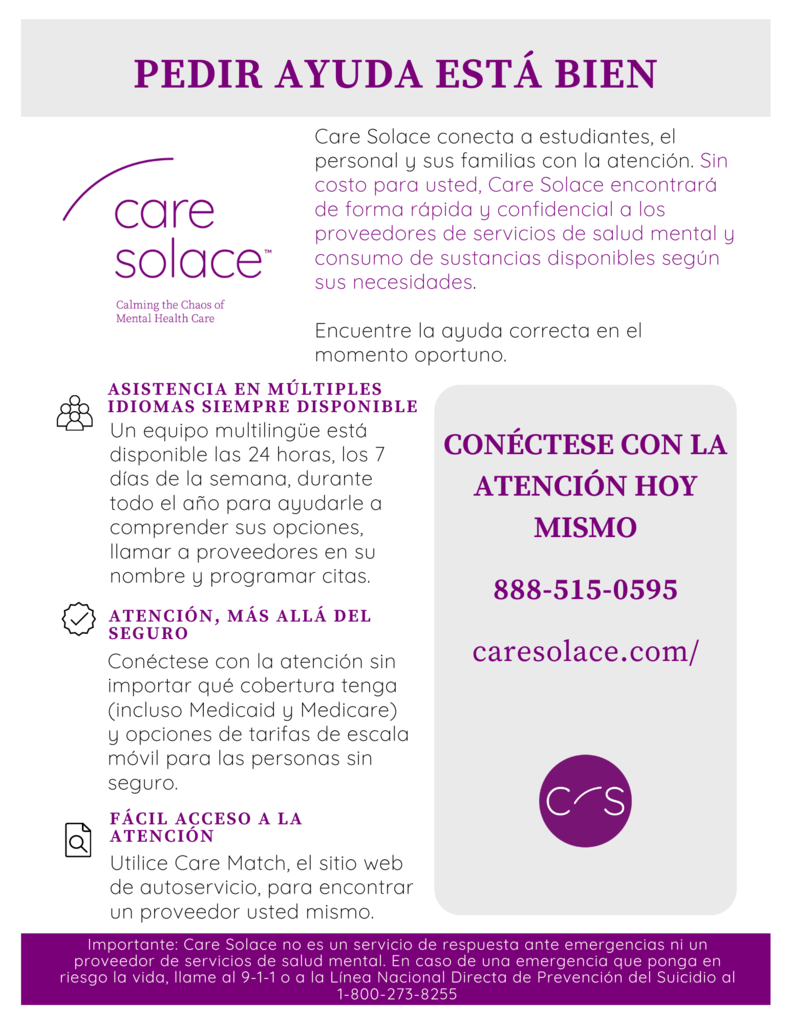 It's going to be a beautiful day tomorrow- Come join us!!!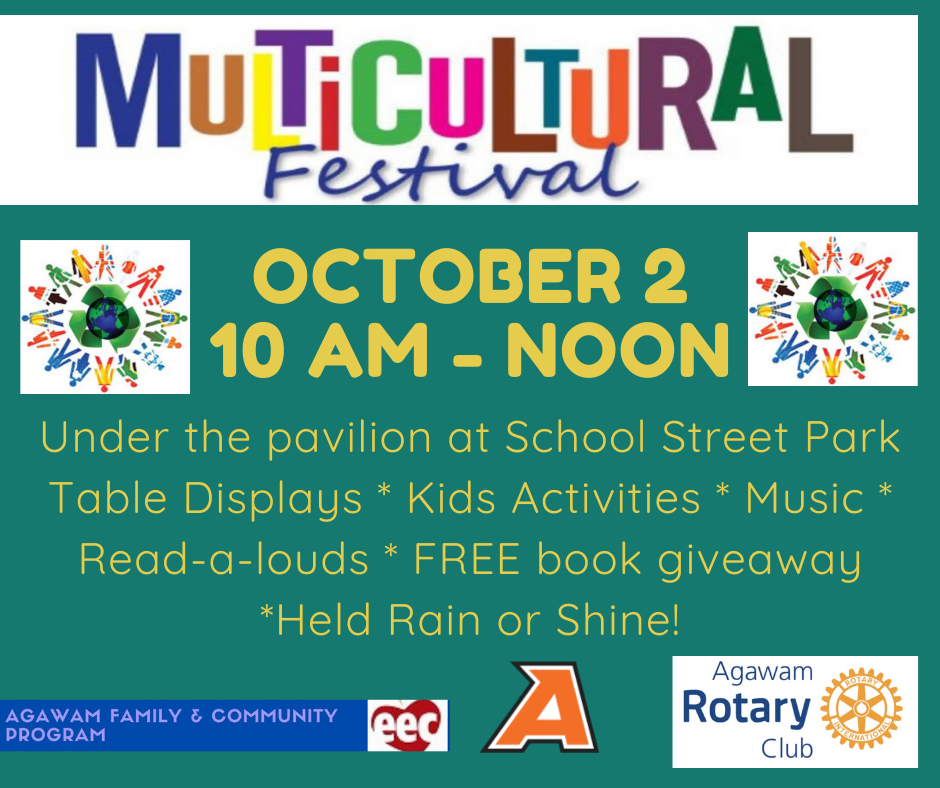 FREE Adult English as a Second Language Course All classes held virtually through Google Meets Tuesdays & Thursdays 6:30-8:00pm Session 1: October 19th-December 23rd Email Ashley Martins at
amartins@agawamed.org
to register!
APS Families: The Hampden-WIlbraham Partners 4 Youth Cordially invites parents and guardians from surrounding communities to this free virtual workshop!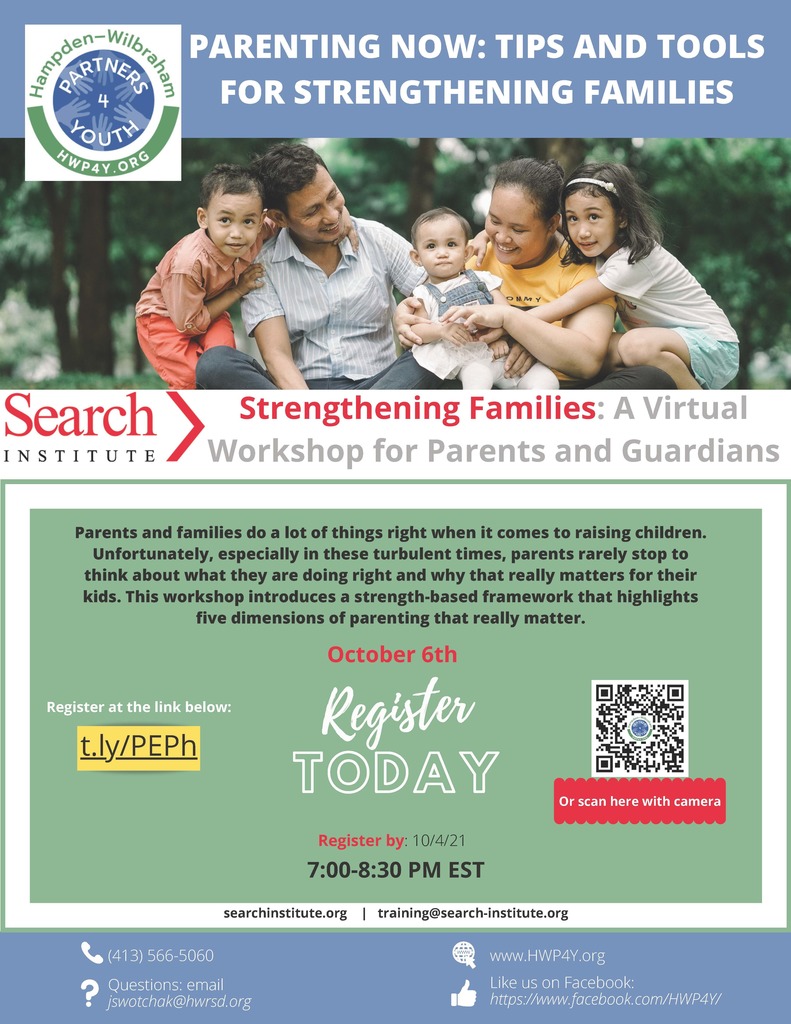 Due to the ongoing situation with COVID, our schools are requiring additional and more extensive information when your child is absent. If your child is absent please notify the school with a specific reason for the absence, not just "sick". Please be sure to speak to the school nurse if your child's absence is COVID related. Thank you.
Join us!!!