Congratulations to Joseph Buonagurio, Brooke Odunlami, Jessica Wall, Megan LaCroix and Arthur Robichaud who have been selected by Agawam Public Schools as the 2023 Pioneer Valley Excellence in Teaching Award Winners. They will be honored on Wednesday, May 3, 2023 at the Log Cabin in Holyoke. Joseph Buonagurio is a Science Teacher at Agawam High School. Joseph consistently demonstrates exemplary teaching every day in his classroom. Brooke Odunlami is a Special Education Teacher at Agawam Junior High School. Brooke tirelessly commits her time, energy, passion, focus and love of learning onto her students, her colleagues and the Agawam community. Jessica Wall is a Special Education Teacher at the Robert G. Doering Middle School. Jessica works collaboratively with colleagues to support her students in the inclusion setting, including and modifying the curriculum to meet the individual needs and abilities of each student. Megan LaCroix is a Special Education Teacher at Robinson Park Elementary School. The students that Megan teaches require a highly modified curriculum, smaller class size and a lower teacher/student ratio. Arthur Robichaud is a 4th Grade Teacher at Clark Elementary School. He is our First Year Teacher Winner. I n his first full year of teaching, Arthur has gone above and beyond to be fully immersed in building relationships with students and their learning.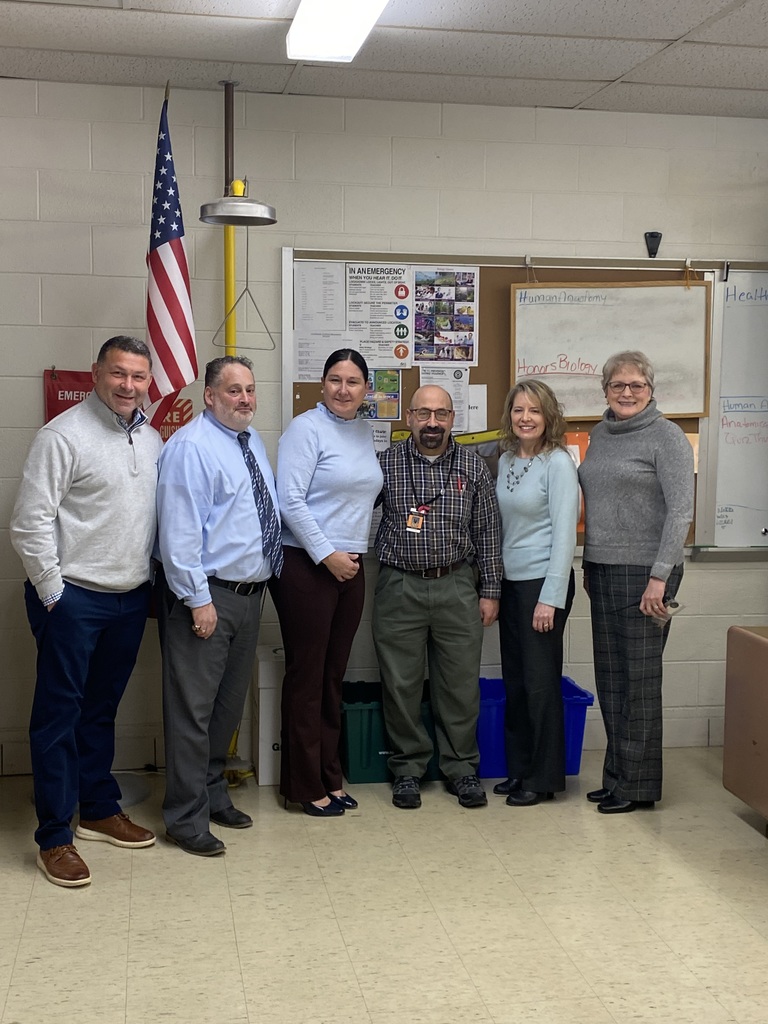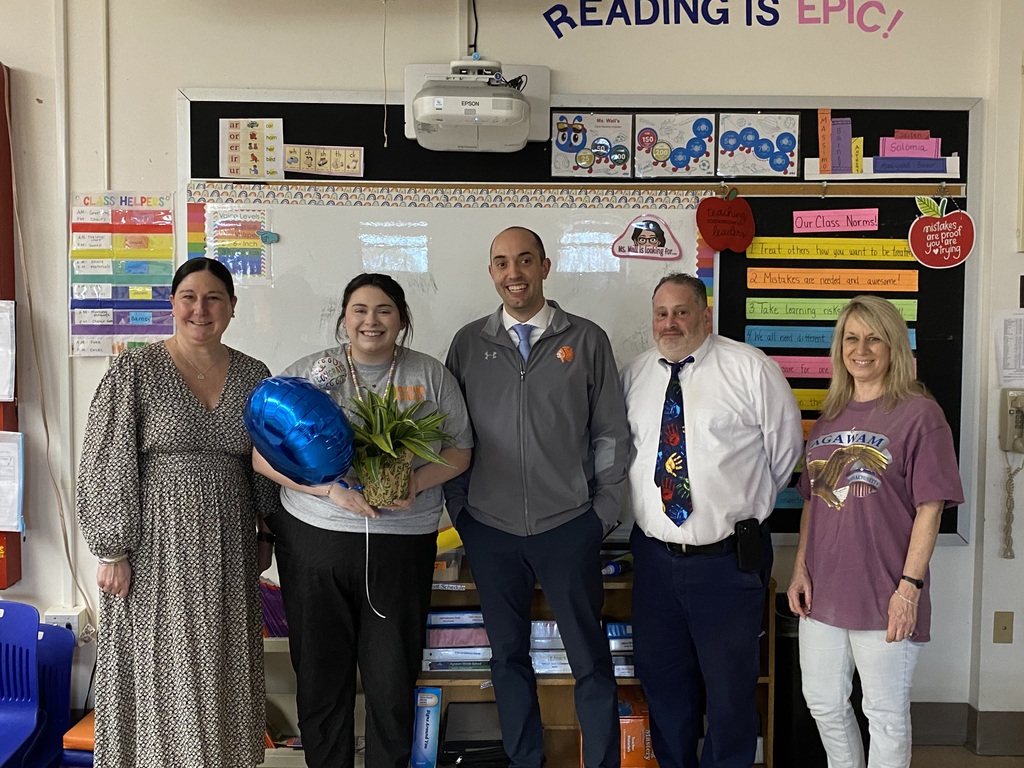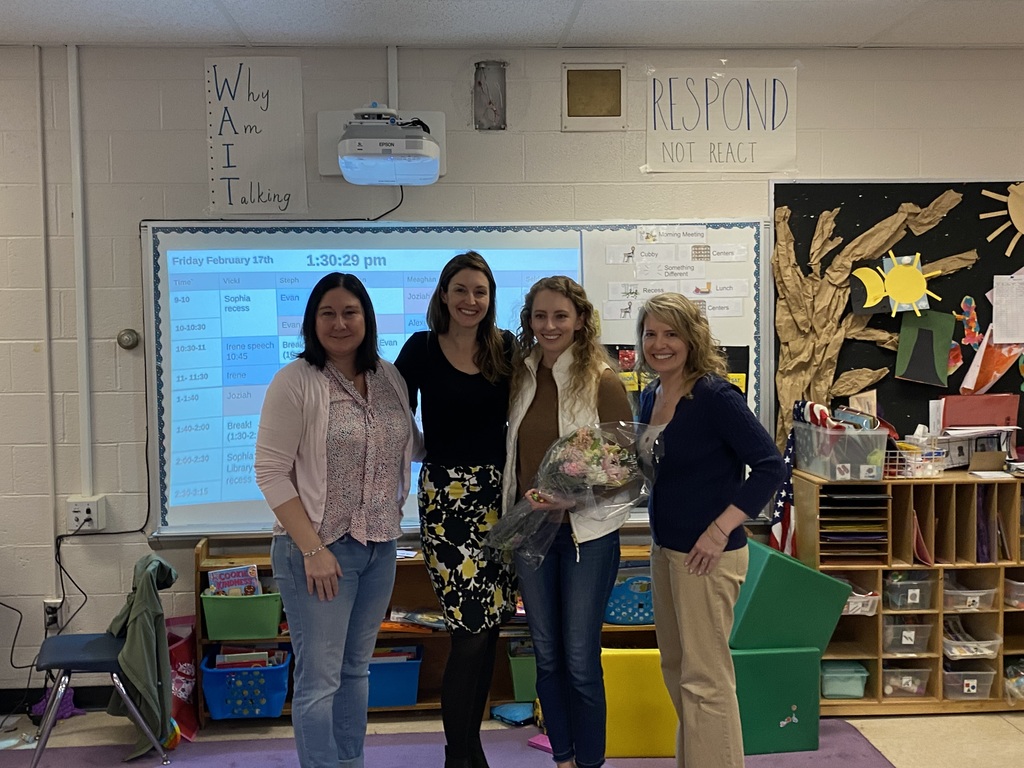 Wednesday was another BIG success in Agawam as we celebrate National Breakfast Week. So many "Celebrity" servers provided 779 breakfast to our students. Tomorrow is another fan favorite meal, HOME MADE Warm French Toast Bake. Dig In To School Breakfast!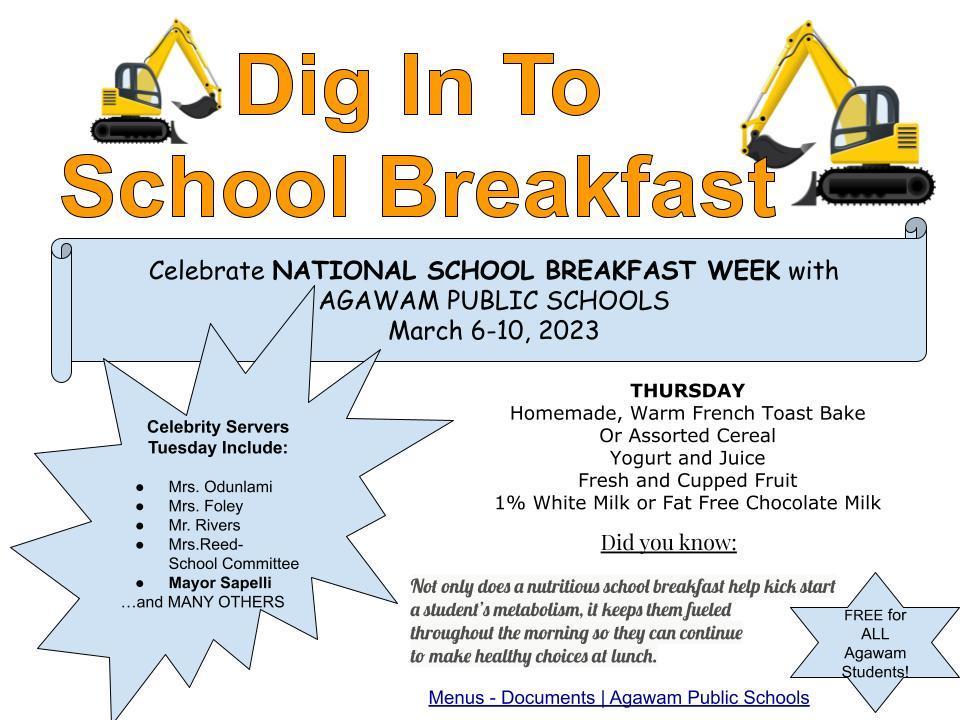 WOW! What a great second day of National Breakfast Week in Agawam Schools. The kids LOVED the Strawberry Banana Smoothies. We served 831 Agawam students breakfast today!!! Get ready for day #3 tomorrow with a delicious Sausage and Egg Pancake Breakfast Sandwich!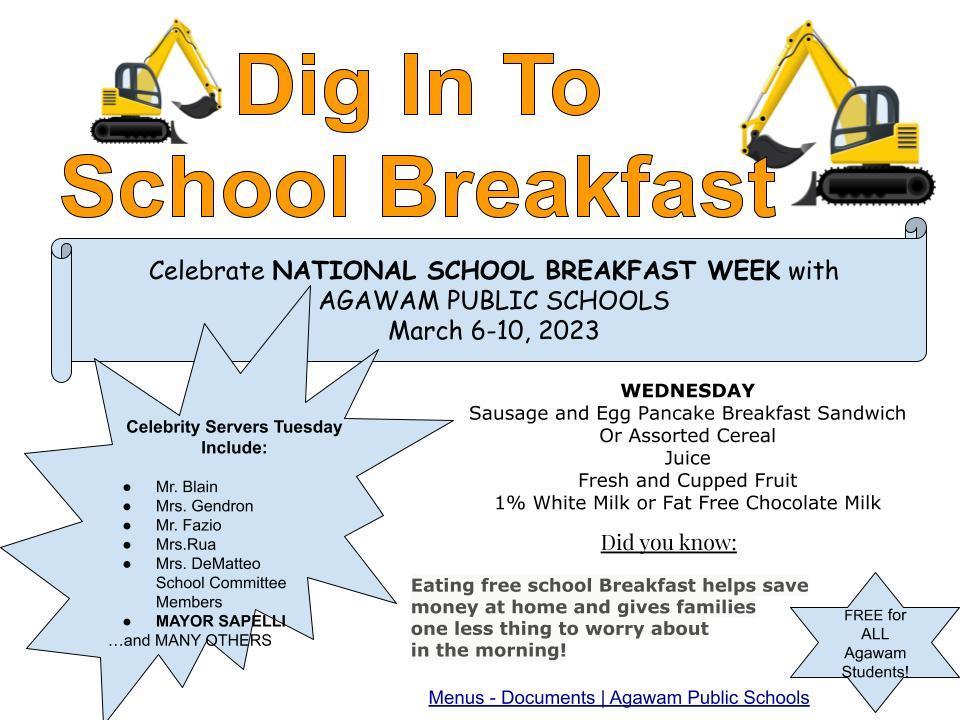 National Breakfast Week, Day #1= 613 Breakfasts served to Agawam Students! Tomorrow is day #2! Join us for a delicious smoothie and start your day off right!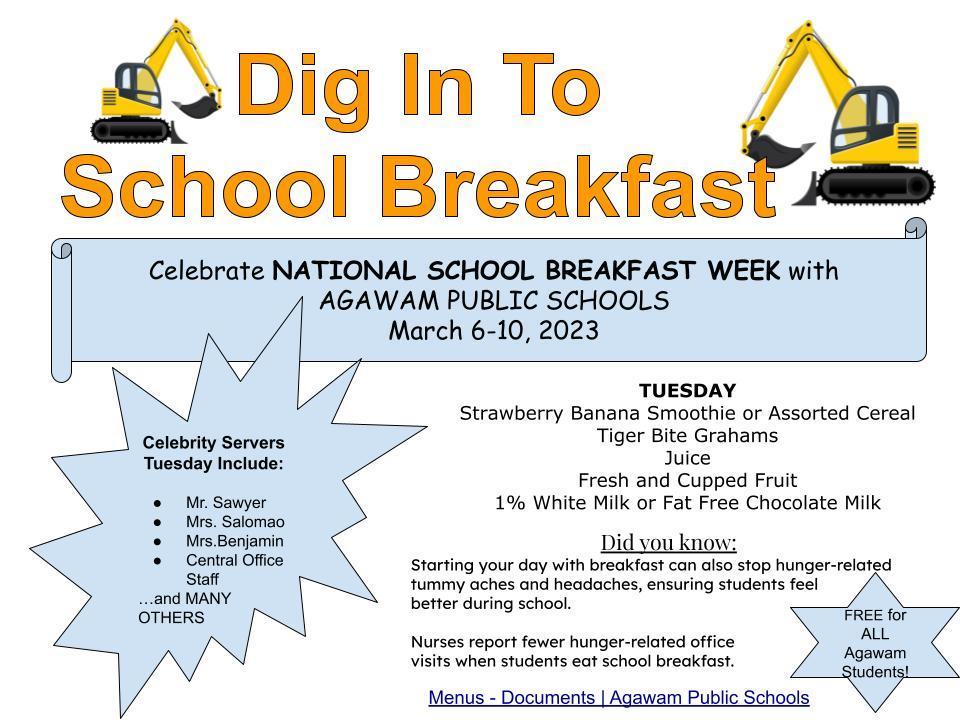 Please join Agawam Food Services as we celebrate National School Breakfast Week.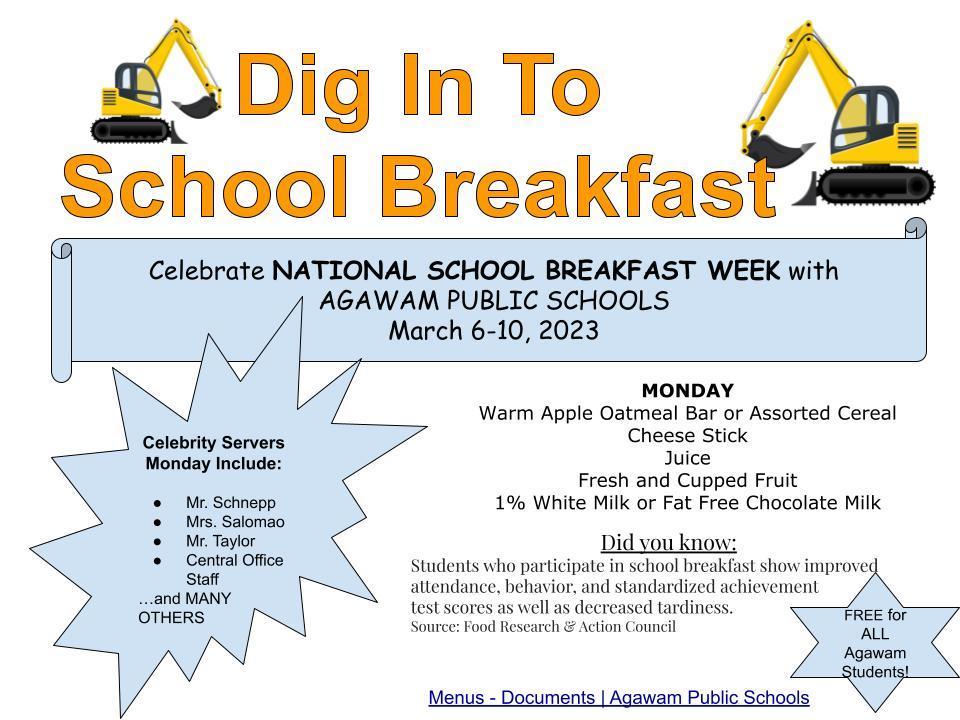 SAVE THE DATE!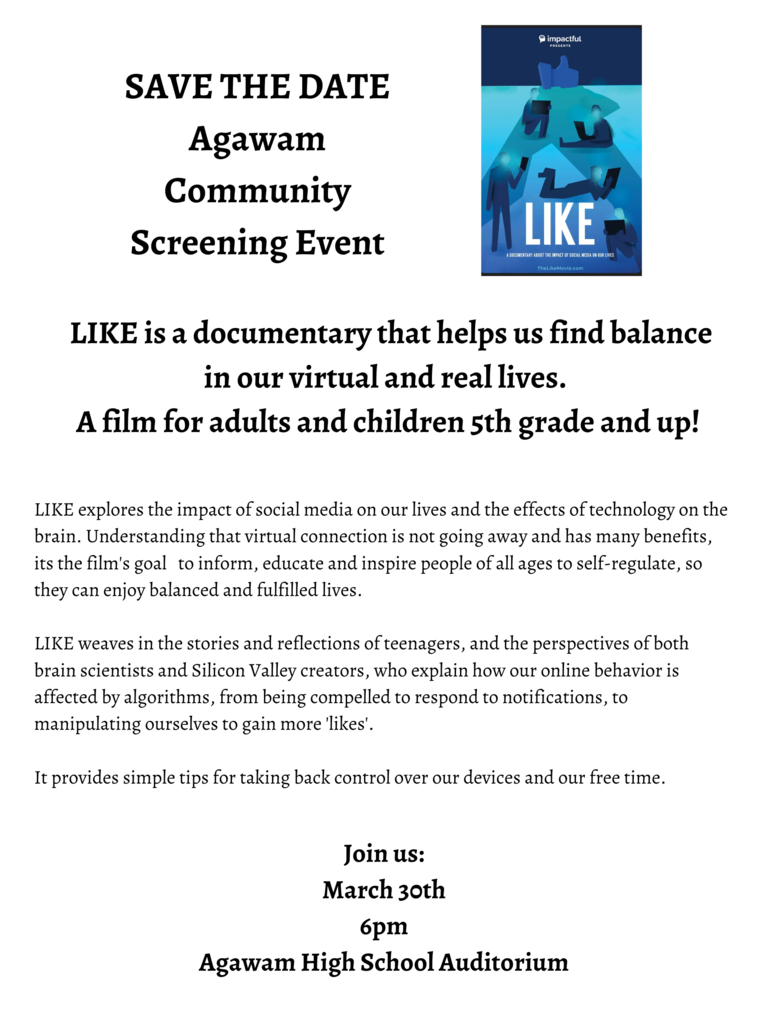 FYI- Starting the Conversation- College and Your Mental Health When: Monday, March 27 (Zoom) Time: 7:00 – 8:30 pm Panelists include a current college student and a recent college graduate sharing details from their mental health journeys and three college administrators outlining considerations and preparations associated with attending school while living with a mental health condition. Topics include mental health friendly signs to look for when applying to college, life skills to master before the first term, family communication plans, and working with the disability office. Students, parents/guardians, and school counselors are welcome. Learn more and register for College and Your Mental Health at
https://static1.squarespace.com/static/5ecac55bf4aac80c66a7aa01/t/63f91e170c666f3d95594502/1677270552523/CollegePanelWebinar2023Final.pdf
FYI: Families for Depression Awareness: Helping Teens Heal From Trauma When: Tuesday, April 25 (Zoom) Time: 7:00 to 8:30 pm In this webinar, Deborah Vinall, LMFT, Psy-D, defines trauma and discusses its impact on long-term wellness. She will also cove the signs of trauma in teens, effective treatment approaches, and practical strategies that caring adults can use to encourage teen mental wellness. Register to join us for a live webinar discussion or watch on demand after it airs. Learn more about Helping Teens Heal from Trauma & register go to:
https://www.familyaware.org/webinar/helping-teens-heal-from-trauma/
Agawam Public Schools will be closed on Tuesday February 28th.
Thank you school counselors for making a difference at APS!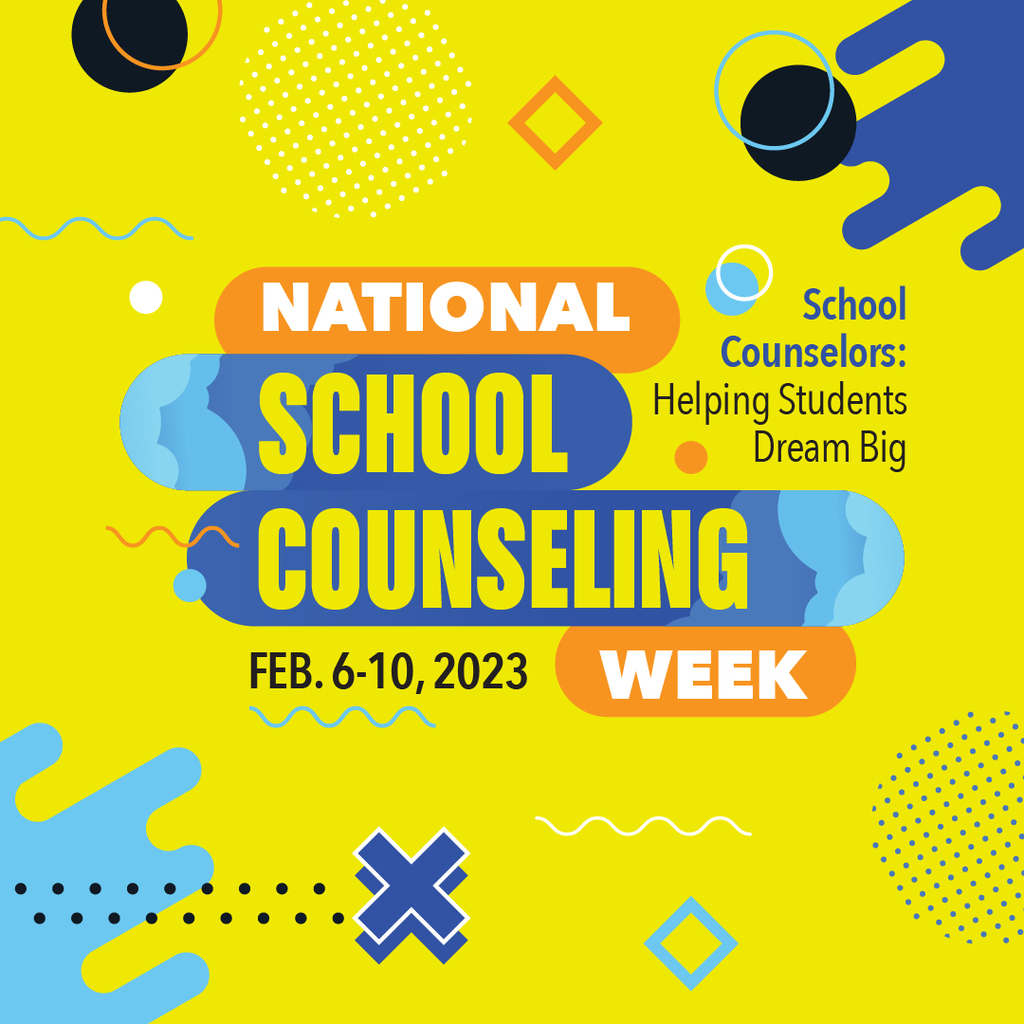 Good Evening - With a Winter Storm potentially starting tomorrow at 11:00 am and continuing throughout the afternoon into the early evening, tomorrow Wednesday, January 25th will be an early dismissal. We will follow the ½ day dismissal times for each school. Please note that there will be no Night School, or pm Preschool or after school activities. Athletic events will be determined tomorrow through the Athletic Department. Please plan accordingly. ½ Day Dismissal times High School - 10:50 am Junior High School - 11:20 am Doering - 11:50 am Robinson - 12:20 pm Clark - 12:20 pm Phelps - 12:20 pm Granger - 11:50 am ECC (am preschool) - 11:00 am Thank you for your cooperation. We will be back to our normal schedule on Thursday, January 26th. Sheila M. Hoffman Superintendent
LPVEC is hiring Drivers & Monitors - Apply today!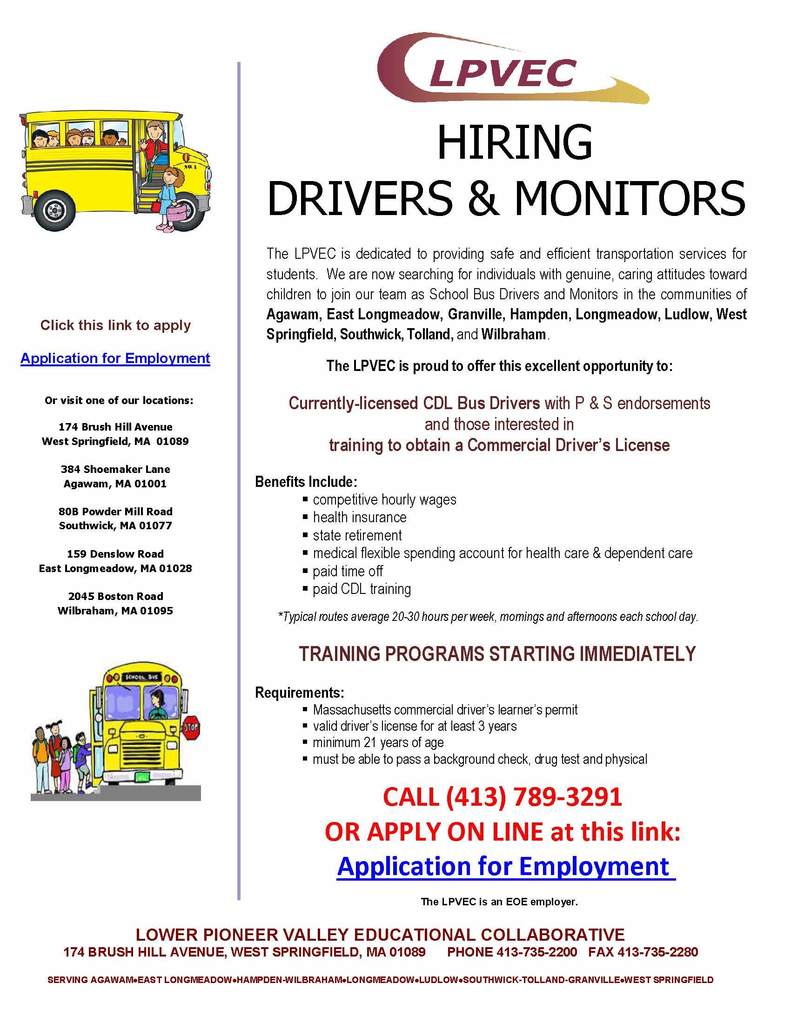 Specialized transportation will resume tomorrow, Thursday, October 13, 2022. Please note it may be a different bus, the bus company has secured vans to replace yellow mini buses for the time being. Times should be consistent with normal pick-up times. Thank you for your patience.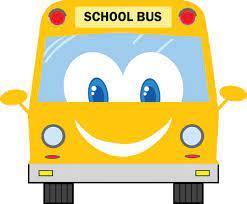 Good morning. If your child receives specialized transportation via mini school bus to school, buses CANNOT pick up your students today due to a theft at the bus company. If your child receives specialized transportation to school and you want them to attend today, you will need to drop them off and pick them up. We will update you regarding the rest of the week and if this will impact other days. This does NOT impact the rest of the district at this time. Please contact the office of special services with any questions. Thank you.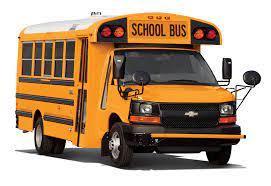 Calling all parents/guardians of Agawam's English Language Learners... please join the EL-PAC Meeting on October 26th!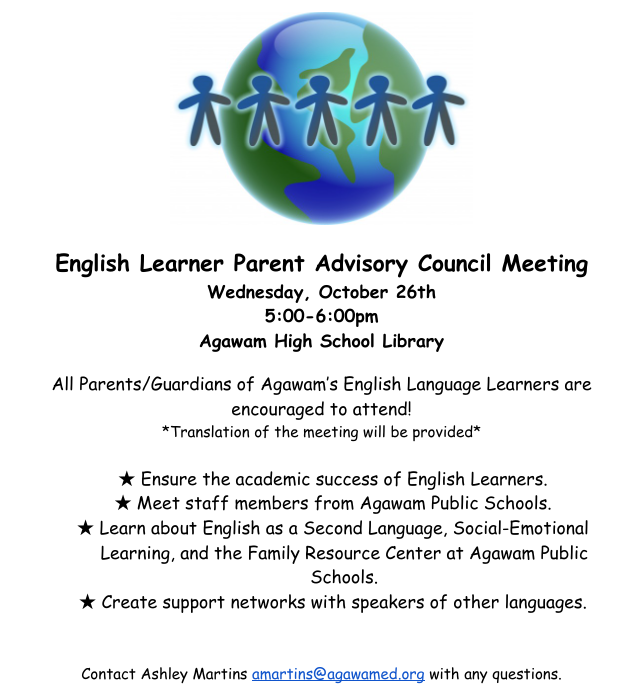 Register for a FREE Adult English as a Second Language course hosted by Agawam Public Schools!
Save the Date.......Saturday, October 15th Open House at the Agawam Fire Department 10:00 am - 2:00 pm Agawam Fire Headquarters 800 Main Street, Agawam Events will include: - Firefighter Chili Cook Off - "Jaws of Life" vehicle extrication demonstration -Fire Apparatus Tours _Fire Safety Education Call (413) 786-0657 for additional information

Agawam Special Services is holding a HomeSchool Meetup for Parents/Guardians in Agawam who are Homeschooling their children. October 18, 2022 4pm Agawam Public Library Pierce Conference Room For more information contact our Director of Special Services, Tony Fazio @
afazio@agawamed.org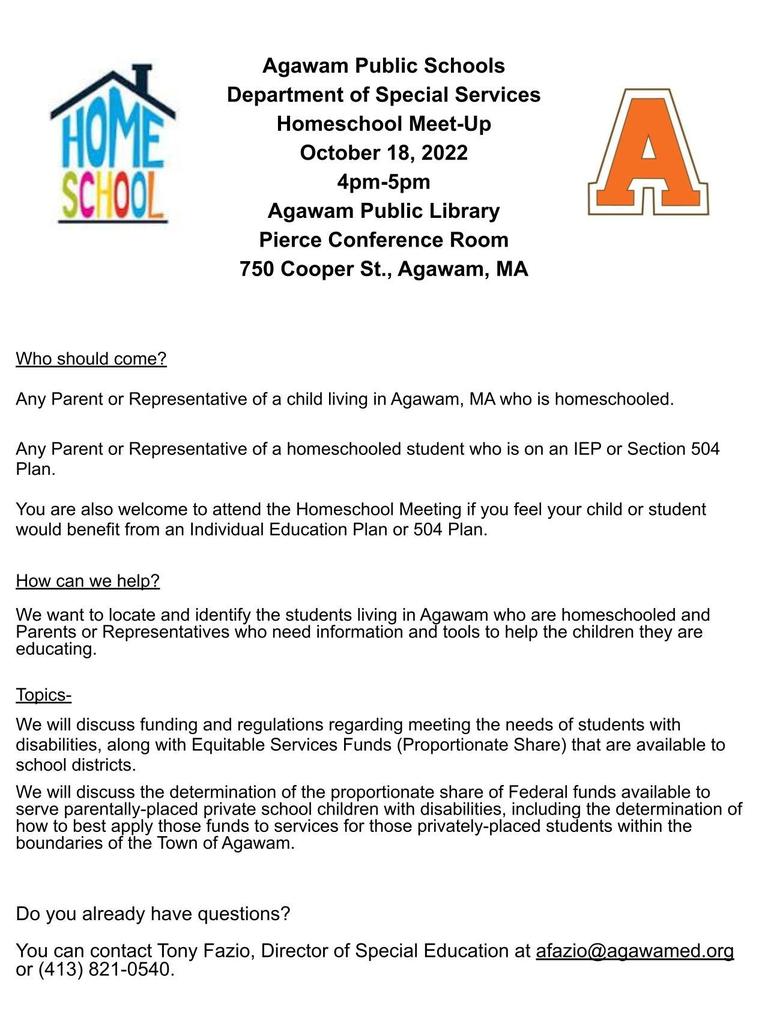 Help Agawam beat West Springfield and win a $500 donation for the Agawam Municipal Scholarship Fund! In an effort to reduce the amount of textiles entering our waste stream and supporting Hartsprings Foundation's mission of financially supporting Big Brothers and Big Sisters, Hartsprings will be sponsoring the friendly competition. The community that collects the most textiles in weight will win a $500 donation to a program within their community. Residents and supporters of the Town of Agawam can donate their bagged or boxed used clothing, linens, hats, shoes, belts, towels, curtains, drapes, and other cloth items is two ways. Schedule a FREE at home pickup from Hartsprings Visit
www.donatehartsprings.org
Collection days will be scheduled for either Tuesday, October 11th or Tuesday October 25th. Attend the towns Textile Drop Off Day Department of Public Works, 1000 Suffield Street Saturday, October 22nd 10am - 2pm (no appointment needed)
Back-to-School